SkinRecovery
Strengthens your skin
Is your skin unbalanced as a result of burns, cosmetic treatments or stress? Or do you have a demanding skin, that could use a boost?
Then choose BAP Medical SkinRecovery.
For recovery of damaged, unbalanced skin
Nourishes the skin from within
Scientifically proven active ingredients
Boost for sensitive skin

Intensive hydration

Supports regenerative capacity
Helps protect and repair your skin
Powerful skin formula
Food supplement with high-quality ingredients
Produced under pharmacist supervision
Scientifically-proven vitamin and mineral complex
BAP Medical SkinRecovery
This advanced skin supplement contains a powerful mix of herbs, vitamins, minerals and enzymes. Added probiotic also supports a healthy intestinal function.
SkinRecovery activates the immune system, nourishes, hydrates, protects and strengthens the skin from within.
SkinRecovery can be used to repair your skin and make it stronger and healthier. But it also has a preventive effect, preventing certain factors from weakening your skin (barrier).
Is your skin unbalanced as a result of burns, cosmetic treatments or stress? Or do you have a demanding skin, that could use a boost? Then choose BAP Medical SkinRecovery.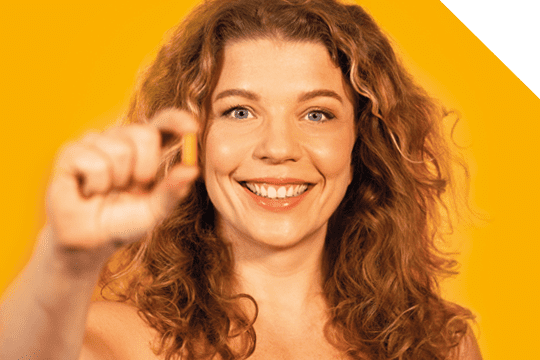 How often should I use SkinRecovery?
Take two capsules a day, in the morning with breakfast and in the evening with dinner. If required, an extra capsule may be taken before bedtime. Do not take more than four capsules a day.
How long can I use SkinRecovery?
You can use SkinRecovery all year round to provide the most intensive level of support for your skin and to ensure powerful skin nutrition from within. Or use this supplement as a boost when you notice that your skin needs a little extra care.
Best results are achieved when you use SkinRecovery for three months or longer. Once you notice that your skin condition has improved, you can switch to SkinBalance.
When should I use SkinRecovery?
When your skin is vulnerable, damaged or (over)sensitive.

For burns and sunburn.
During periods when the skin is particularly stressed, for example during winter sports and in summer (UV radiation).

Before, during and after professional skin treatments, such as peeling, laser, use of medical products and cosmetic procedures.
When travelling regularly and experiencing changing environmental factors.
During periods of increased stress or pressure.
When you want to boost the condition of your skin.
For skin that demands ongoing support.
To maintain resilient skin, from within.
Are there any precautions for SkinRecovery?
Keep out of reach of children.
A food supplement is not a medicine or a substitute for a varied diet.
A varied, balanced, diet and a healthy lifestyle are important.
Please consult your doctor if you are taking any medication.
Turmeric (SkinRecovery) can affect the effectiveness of medicines, including Tamoxifen and anticoagulants.
Do not use SkinRecovery in case of bile duct disorders.
Consult an expert before use in case of pregnancy, breastfeeding, illness or use of medication.
For professional skin treatments
SkinRecovery is ideal for use before, during, and after professional
skin treatments, in order to achieve optimal results.
Start with SkinRecovery one month before you undergo skin treatment and use it for up to two months afterwards.
When your skin condition has improved, you can switch to SkinBalance.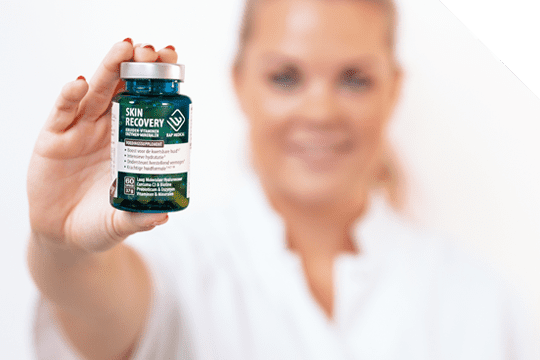 Ingredients in BAP Medical SkinRecovery
The ingredients in BAP Medical SKIN SUPPLEMENTS reach the lower skin layers through your bloodstream. Proven active ingredients, approved by EFSA.
Active ingredients
Turmeric C3 & Bioperine
Supports the immune system as an antioxidant.
Protects the cells.
Research shows that a combination of Turmeric C3 and Bioperine provides
20 times more effective absorption than other Turmeric variations.
The active ingredients are absorbed into the bloodstream.
Turmeric has been chosen as the 2019 supplement of the year (in Europe).
Digezyme
High-quality enzyme complex, important for skin condition.
Helps to improve the function of the intestinal system.
Low molecular hyaluronic acid <50kRDA
A breakthrough in the application of hyaluronic acid.
This form (low molecular) is much better absorbed by the skin than other variants.
Supports optimal skin hydration.
Capable of retaining moisture in the skin and strengthening the skin barrier.
Biotin
Contributes to a healthy balance in skin and hair.
Lactobacillus Lactospore 15 109 IU/g
Improves intestinal flora, which has a beneficial effect on your skin.
Provides probiotic support for your skin.
Supports your skin's immune system.
Vitamin B2 Copper (Copper sulphate), Iodine (Potassium iodide) and Selenium (Sodium Selenite)
An EFSA Scientific Panel has published a positive assessment of the guaranteed benefits of these vitamins and minerals, when used for the skin.
All ingredients
Bulking agent (Microcrystalline cellulose)
Curcumin C3 complex®
Capsule (Hydroxypropylmethyl cellulose)
DigeZyme®
Lactospore®
Hyaluronic acid <50 kD
Anti-caking agent (Magnesium stearate, Non-nano Colloidal Silicon dioxide)
Bioperine®
Copper sulphate
Riboflavin
Potassium iodide
Biotin
Sodium selenite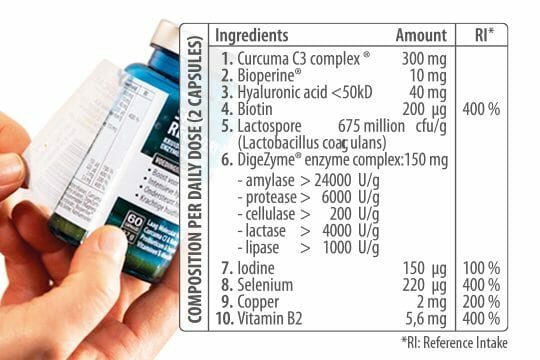 Products related to SkinRecovery